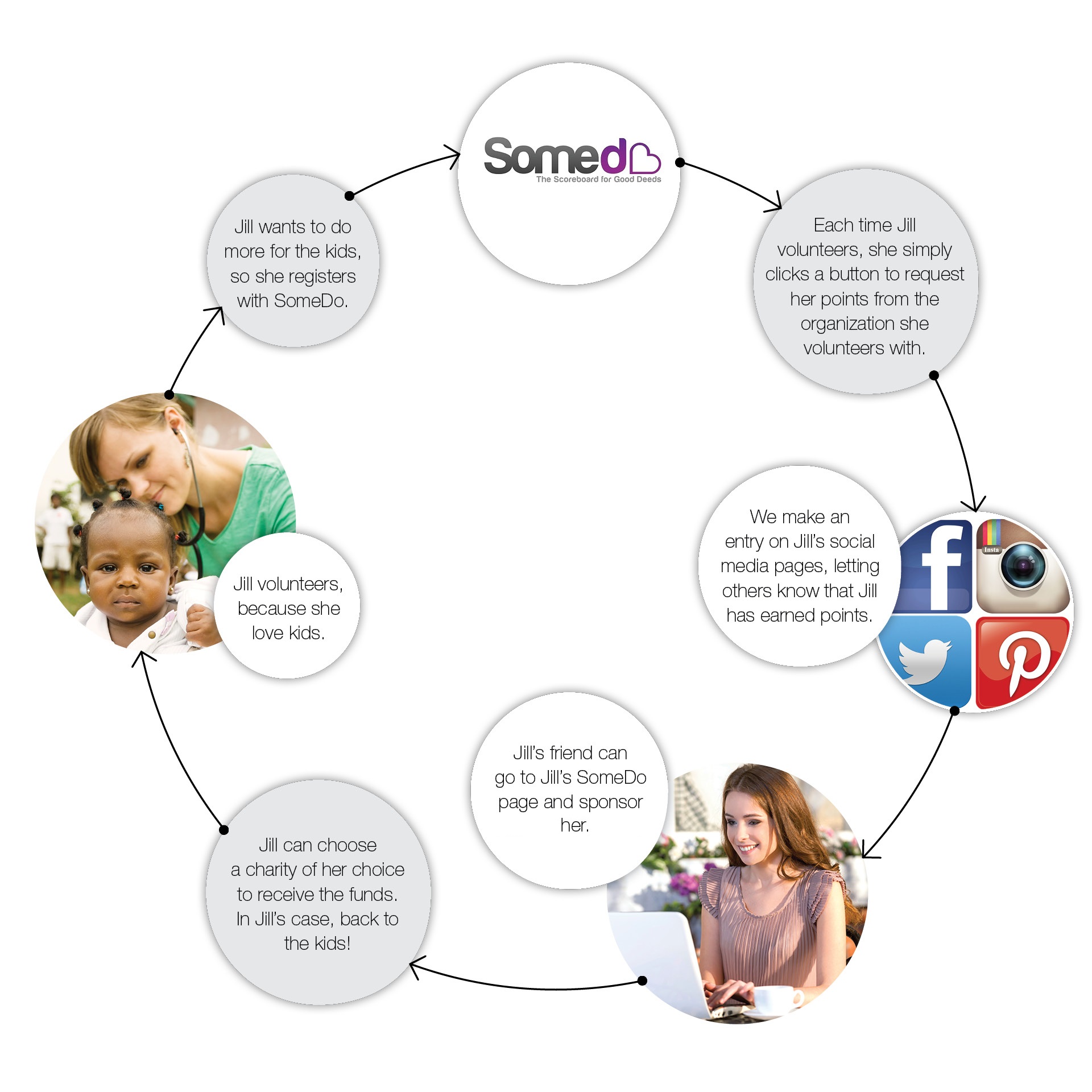 SomeDo Stakeholders Benefit in Many Ways
SomeDo doesn't replace any volunteer organization, or fund raising activity, it just makes them stronger. Let's take a look:
Organization that needs Volunteers
List opportunities on the Opportunity Map
Reward your volunteers by allowing them to acknowledge their efforts on the 'Good Deeds Map' and Scoreboard
Your volunteers can be sponsored by friends and families to raise money for causes they are passionate about.
When your current volunteers share their volunteer experience via social media, they increase the likelihood of your getting new volunteers.
Charites, Groups trying to Fund Raise
SomeDo opens up many opportunities for groups that need to raise funds
A group looking to raise funds can alert their current stakeholders, that if they are volunteers, these volunteer activities can be sponsored, with the proceeds going to the charity.
A group might proactively approach an organization about having a 'fundraising / volunteer' event.
Volunteers
Volunteers would obviously do what they do for nothing. They see a need, and fill it. But wouldn't it be great to allow their hard work to benefit something they feel passionate about?
By affiliating with a charity, your friends and family can sponsor a volunteer, helping the charity raise money.
Churches or other Religious Groups
Church leaders often become aware, before others in a community, when someone needs some help. It may be something recurring, or maybe just a one time need.
The 'SomeDo opportunity to help map' gives church leaders a place to let the community know that an individual is in need, and what specific help would be of benefit.
Churches are often a source for volunteers. Volunteers that are affiliated with a church may choose to have 10% of any sponsorship money donated to their church.
Seeing a churches involvement on social media may spur some members of a community to become more interested in some of the churches more traditional endeavours.
Volunteering Never Felt So Good
SomeDo lets you easily raise money for the causes you care about, by having people in the community sponsor your volunteer activity. It's the same volunteering you've done for years, but we think it's time to extend the reach of your good deeds. You volunteer, the organization confirms it, and then we let people know via social media. Friends and family can sponsor you for a few dollars, or more, and the money goes to the charity you choose.
The Big Goal is to see the Scoreboard Tally increase each day
There's an old business axiom that says, 'if you want to increase something, count it'. Our big goal is to see our scoreboard increase each day.
Crowdsourced fundraising meets community service.
Each day, we'll update a national map chronicling the good deeds completed the previous day, along with a tally of the number of deeds completed.
Initially, a visitor will see what's been done across the country. As word spreads and more good deeds are registered, we hope you'll be able to find good deeds in your city, and then even in your neighborhood. It's our goal, and hopefully our visitors, to see the number of registered good deeds increase every day!
Each individual good deed will be tagged on the map with a marker.
Clicking on a marker will bring up details about the volunteer, what action they performed, and what charity contributed dollars will go to.
Support the people you know and the causes they love.
You've probably sponsored someone for a walk, run, or ride. With SomeDo, you can sponsor a volunteer for the good work that they do, whether it be volunteering at a hospital or donating blood.
We heard during focus groups that volunteers don't just want recognition or a reward, they want a 'doubling' of their good work. The volunteer may choose the same place they volunteer, or some other worthy cause. It's all up to the volunteer!
For example, a dog walker at the SPCA could choose to have their sponsors support an animal shelter for dogs, or have the donation go back to the SPCA.
Donors can transparently track their donation as it moves to the charity of the volunteer's choice.